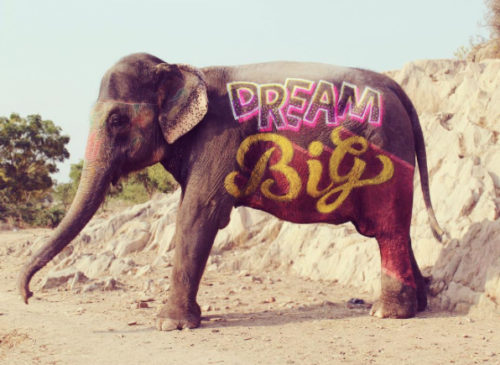 "Dream Big" by Niteesh Yadav, a graphic UI designer and letterer from New Delhi, India.
"Niteesh's piece is for the "IndiaThroughType" series, aimed to bring out some unique and interesting aspects of India through various type based experiments. He is traveling across the country to witness the rich culture, arts/crafts and daily practices from which to draw inspiration for Finding.design, a personal project to find out what is Indian Design?
This is the first piece to kickoff the project. The "paint" used is not a paint but powdered natural colors mixed with water which are used to decorate the elephants during Indian festivals. The elephant's name is Rani, which means queen in English. Niteesh spent an entire day getting to know her before he began painting. He said she seemed to really enjoy it."
Talk about some original places to do lettering!